2022 Kia Telluride is a Class-Leading Mid-Size SUV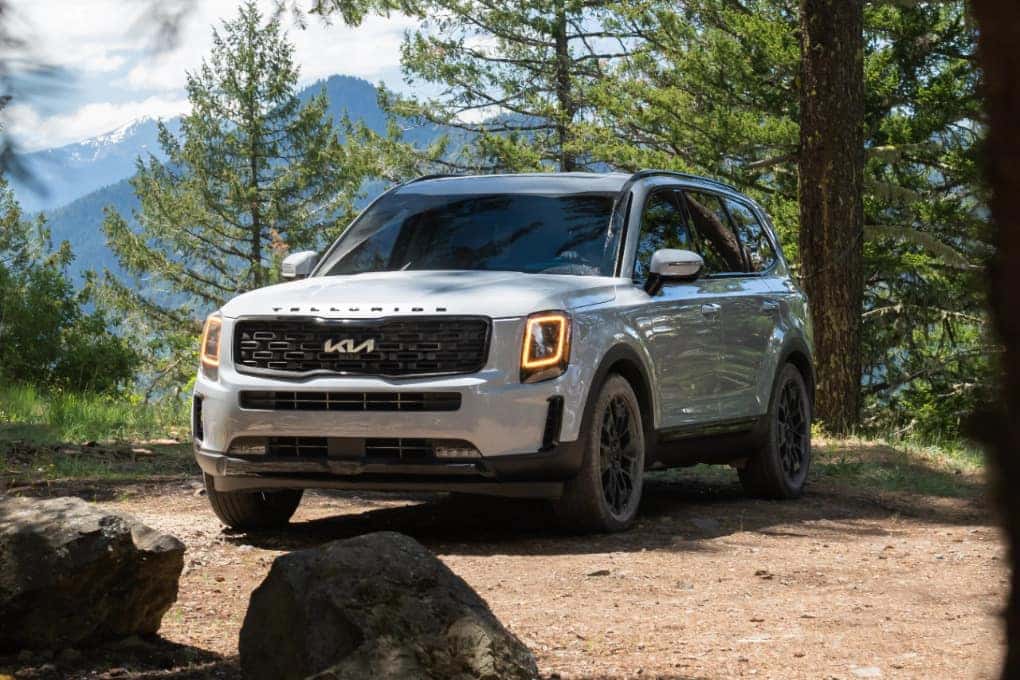 Some of the many significant aspects of the new 2022 Kia Telluride is that it has a spacious cabin, it comes with a standard 3.8 L V6 engine, available all-wheel drive, has a maximum passenger capacity of eight passengers, and best of all, it has an extended warranty period courtesy of Kia. Its exterior features embody a luxury-like appearance, and Kia's new badging further enhances the overall look of the Telluride, giving it a modern flare. With a starting base price of $32,790 (plus destination fee), the new Telluride offers incredible value at an affordable price point. 
"Best 3-Row Midsize SUV" Award by
Kelly Blue Book
One of the most recent awards the Kia Telluride received is the 2021 Best 3-Row Midsize SUV Award by Kelly Blue Book that shows just how amazing this family SUV is. Not only is the Telluride a fantastic purchase, but it also retains its resale value longer than most other midsize SUVs in the same category. For the 2022 model year, the Telluride is expected to receive more amazing accolades because it receives a larger infotainment screen and extra standard features. The ride quality is comfortable and agile for an SUV as large as the Telluride due to its upgraded suspension and wide stance. 
Kia's adaptive cruise control (with Highway Driving Assist) is standard and makes managing long drives by automatically reading road signs. An automatic speed-adjust function embedded in the system also alters the vehicle speed when necessary. For those off-road junkies that desire a little bit of adventure in their Telluride, they can embark on their journey with confidence because the Telluride has 8-inches of ground clearance and AWD capability.   
Third-Row Practicality and Convenience
The Telluride's spacious cabin offers plenty of room for fully grown adults. Even in the third row, passengers ride with comfort. There are two seating configurations for the Telluride that include a standard bench in the second row or two optional captain's chairs. Kia's Driver Talk function comes standard for 2022, allowing drivers to speak to the rear passengers via an intercom speaker system without screaming or shouting. The Quiet Mode also turns off the speakers in the rear when the kids are sleeping, a favored feature among families.
Top-Notch Safety Systems and Other Features
A suite of standard safety features are available on the 2022 Telluride, including forward-collision warning, automatic emergency braking, lane-keeping assist, and adaptive cruise control. In addition to blind-spot monitoring, rear cross-traffic alert, and driver attention warning. If you are interested in a 2022 Kia Telluride, contact us at Southern Kia Greenbrier, and our dealership staff will discuss payment options that best suit your driving needs and budget. Do you have another vehicle in mind? Let us know by sending us an inquiry online via our contact form, and we'll respond within the same day. Don't forget to check out our inventory of new or certified pre-owned Kia models. We are offering the best local prices! Upon purchasing a brand new Kia vehicle, we'll offer our basic warranty of 5 years/60,000 miles and our powertrain warranty of 10 years/100,000 miles as an option.
Image Source: Kia