2023 Kia Sportage Will Debut Soon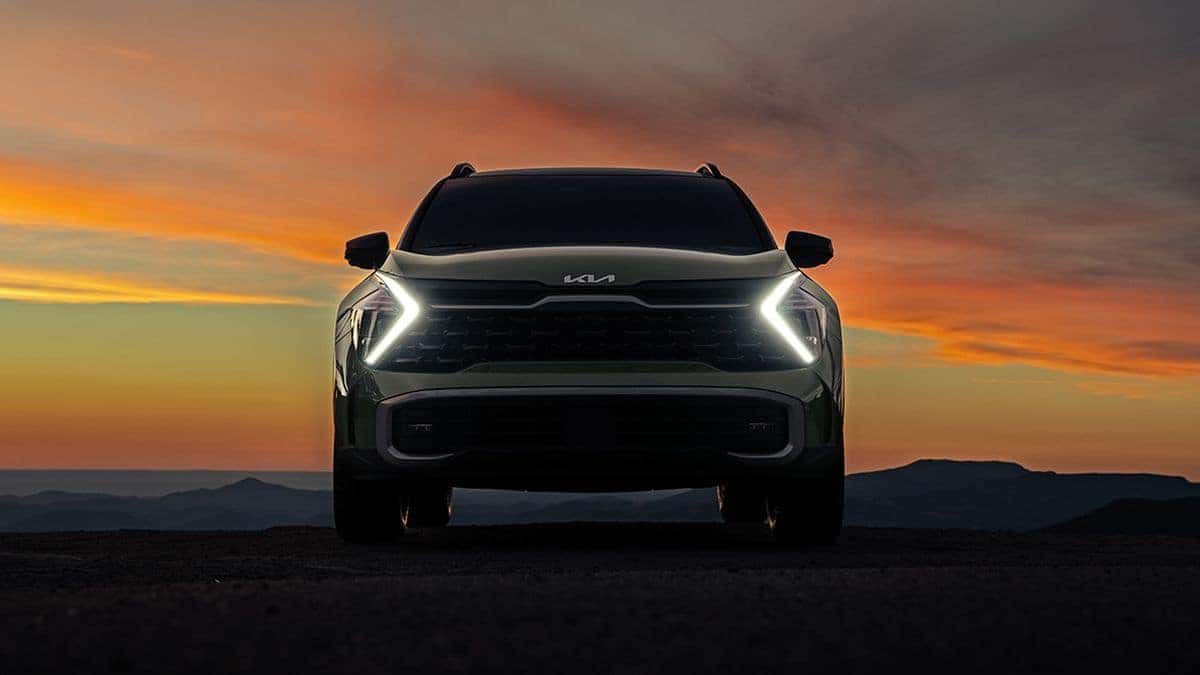 Kia's all-new 2023 Sportage SUV is scheduled to debut on October 27 for the North American market that will give current and prospective Kia customers a spectacular event to look forward to. There are already various images online of the new Sportage. By its looks, the vehicle's exterior has been completely redesigned for a more sophisticated and futuristic appearance. According to Kia, adventure seekers and off-road enthusiasts can both enjoy the new Sportage because of its increased ground clearance, multiple terrain modes, and all-terrain tires. Now entering its fifth generation, the Kia Sportage is levels above the outgoing model for several reasons: it has a radical new design, an upscale cabin, more technology, and more powertrain options to choose from.
New Futuristic Design
In comparison to the previous model of the Sportage, the exterior design of the new 2023 model takes on a whole new design language that features a more aggressive tone, especially at the front. The front grille features a split design, while the front fascia's bottom has a wide front air intake. In terms of vehicle lighting, the boomerang-shaped daytime running lights are an immediate eye-grabber, and toward the rear, the taillights are entirely new and feature a triangular design.
Inside the cabin, the new Sportage features a more upscale look with a set of large screens taking most of the space of the center dash. Kia has removed the hand-held shifter in exchange for a dial shift knob next to the push-button ignition. Because the new 2023 Kia Sportage is six inches longer than the outgoing model, that means there is more legroom for the backseat passengers and more cargo space.
New Interior Technology
It is unknown at the moment which vehicle features are going to be standard on the new Kia Sportage. Still, it is confirmed by Kia that two 12-inch screens will be fitted into a large portion of the dashboard (one that will serve as the digital instrument cluster for the driver and the other is a central touchscreen for media). It is expected for the 2023 Kia Sportage to come equipped with Apple CarPlay, Android Auto, wireless smartphone charging, multiple USB ports, and a premium audio system.
What is the Powertrain?
Until Kia reveals more information on the debut, engine, and transmission options are not confirmed. However, since the new Kia Sportage shares the same platform as the 2022 Hyundai Tucson, we expect the two SUVs to share the same engines. We can expect under the hood of the new Sportage to be a 2.5 L 4-cylinder and will likely come in hybrid, plug-in hybrid, and turbocharged variants.
Vehicle Release Date and Pricing
The 2023 Kia Sportage is expected to cost a bit more than the outgoing model, which will vary by trim level. Pricing figures are not confirmed, but base pricing is expected to start a little over $25,265 (plus destination fee). The new Sportage is on sale in Spring 2022 with a variety of powerful and efficient engine options in either front-wheel or all-wheel drive.
The Kia Sportage just got even better! Kia's new compact SUV is available for sale early next year with a redesigned exterior and refined cabin! Models are expected to sell fast once they hit dealership lots. Get started today and get in touch with us at Southern Kia Greenbrier to reserve your SUV. With us, you will receive timely delivery and pickup of your vehicle the sooner you place an order through our dealership. Also, feel free to explore our inventory of new and certified pre-owned Kia inventory for your chance to save thousands!
Image Source: Kia