Kia Forte Receives Refresh for 2022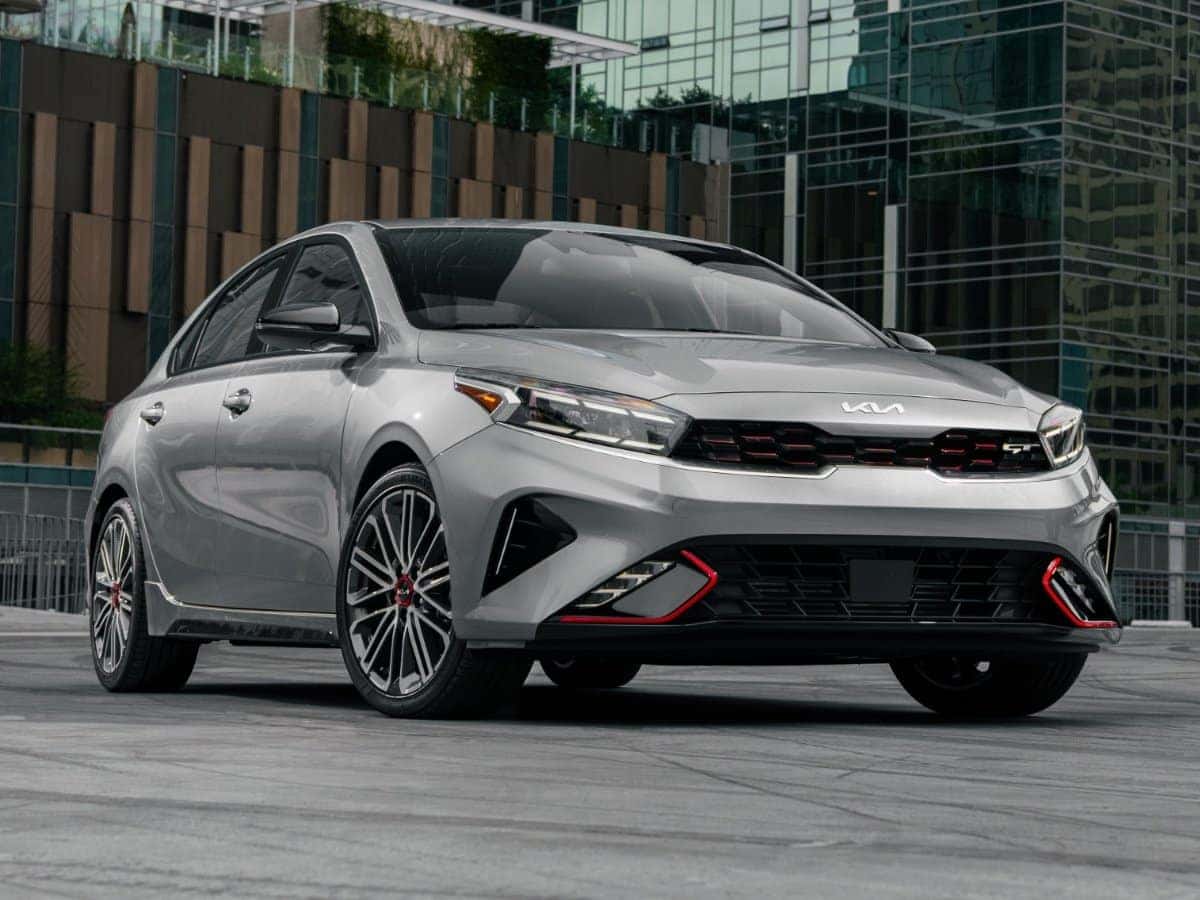 Compact sedans are still a worthy option for consumers who want a practical commuter car that isn't excessively large and retains its fuel efficiency. One such car that is turning heads at the moment is the new 2022 Kia Forte. After receiving a mid-cycle refresh, the Forte sedan looks sharper, sportier and features updated technology. This is mainly to keep it competitive against rival brands and to attract more customers. Some of the main highlights for the new Forte are a revised front grille that is narrower than the previous model, updated headlights, a new wheel design, and a trunk-lid rear spoiler. The GT and GT-Line trims receive new LED fog lights, LED tail lights, and red accents on the front grille and lower bumper inserts.      
Interior Upgrades
Inside the new Kia, Forte cabin is a new center console that eliminates the old manual parking brake in favor of an electronic one. Faux-leather upholstery is now an option for the seating materials, and for extra convenience when charging electronic devices, a rear-seat USB port is added for the rear passengers. It still retains the same-sized 8-inch touchscreen as in the previous model, but a larger 10.3-inch display is now optional and comes equipped with built-in navigation. Wireless Apple CarPlay and Android Auto connectivity are standard, so drivers can always be connected to their favorite music and apps.
Vehicle safety also improves for the Forte with upgrades geared toward driver-assistance features. The automatic emergency braking system gets updated to better watch out for pedestrians and bicyclists. In addition, the rear cross-traffic alert system can automatically apply the brakes when the vehicle senses an object getting too close while going in reverse. The mid-cycle refresh Kia implemented on its Forte sedan also includes a new adaptive cruise control system that utilizes navigation data to predict upcoming curves on the road and decreases the vehicle's speed automatically. According to Kia, the 2022 Forte can be ordered with a system that warns the driver whether it's safe or not to exit the vehicle in anticipation of approaching traffic or bicyclists.
Engine and Transmission
The engine is carried over onto the 2022 model. Therefore, no changes are made to the 2.0 L 4-cylinder engine, and it still features a CVT transmission. This means 147hp is the standard power output for all trims except for the GT trim, which receives a more powerful 1.6 L 4-cylinder turbocharged engine that puts out 201hp via either a seven-speed dual-clutch automatic transmission or a six-speed manual.
Pricing and Release Date
According to Kia, the refreshed 2022 Forte is on sale soon, with base pricing starting at just over $20,000. The entry-level FE trim starts at $20,085, the LXS trim has a starting price tag of $20,585, and the GT-Line will go for $22,285. Consumers can opt for the top-tier GT trim that starts at $24,485 and offers every possible feature. (Please keep in mind vehicle pricing is subject to change to accommodate destination fees and optional equipment). All 2022 Kia models should be rolling to Kia dealerships soon by the end of this year and into Spring 2022.    
The Kia Forte just got even better for 2022! Models are expected to sell out fast once they arrive on our dealership lots. Get a headstart today and get in touch with us at Southern Kia Greenbrier, and we can assist you in placing an order for your brand new 2022 Kia Forte. You can receive timely delivery and pickup of your vehicle the sooner you place an order through our dealership. Our friendly staff is available 24/7 to answer any questions you may have. For the best local deals in your area, check out our certified pre-owned Kia inventory for your chance to save thousands! 
Image Source: Kia