Kia's Top Three Vehicles for 2022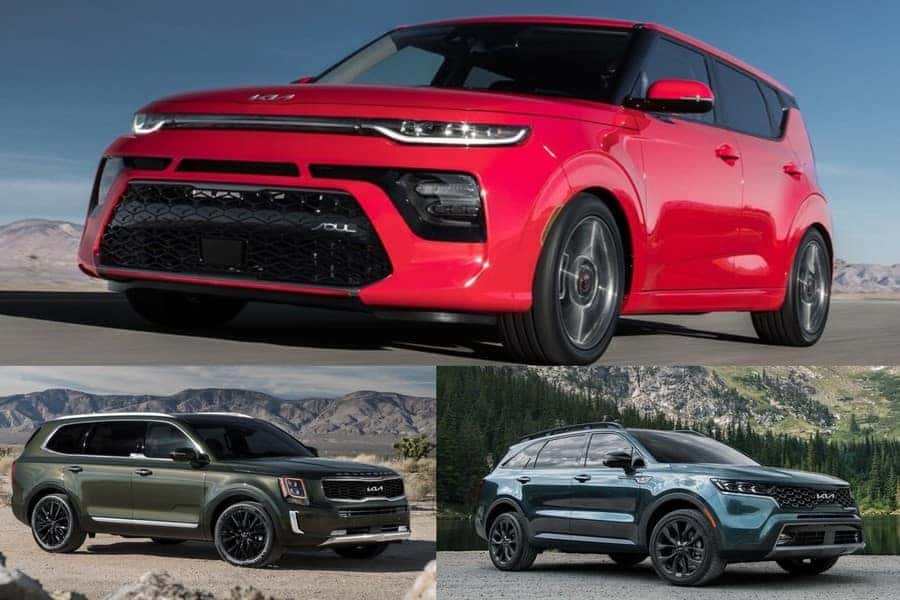 Kia's 2022 models on sale right now are the Kia Soul, Telluride, and Sorento. Kia is confident this trio will be among the best-selling vehicles of the whole Kia lineup in the North American market. From the quirky styling of the Kia Soul to the spacious and practical Telluride and Sorento SUVs, consumers can experience authentic South Korean design in various flavors and customizable options. The majority of the changes for 2022 consist of new badging, upgraded interior features, and new exterior designs.       
2022 Kia Soul
Already in its third generation, not only does the 2022 Kia Soul receive new exterior and interior badging, but Kia has also decided to discontinue the manual transmission on the LX trim to make room for automation and a rumored EV Kia Soul in the future. There are plenty of infotainment upgrades for the 2022 model year, such as a standard 8-inch touchscreen display. However, a 10.3-inch unit is also available. The S, X-Line, and GT-Line trims now receive standard built-in navigation, dual-zone climate control, push-button start, smartphone wireless charging, and two extra USB ports. The base LX trim still boasts plenty of value for potential buyers by offering a Technology Package that includes notable safety features such as blind-spot monitoring, rear cross-traffic alert, automatic emergency braking, lane keep assist, and driver attention warning alert.
2022 Kia Telluride
Few changes are noted in the Kia Telluride, but these changes still contribute to the vehicle's overall value, such as a refreshed front grille and the addition of a 10.3-inch touchscreen display on the LX and S trims. The Telluride makes for a perfect family SUV with a total seating capacity of eight passengers because of its spacious cabin and three-row seats. A mid-size SUV has strong safety ratings and handles reasonably well due to its standard 3.8 L V6 engine that produces 291hp and 262 lb-ft.        
2022 Kia Sorento
For the 2022 model year, the Kia Sorento gets a radical redesign featuring a more sporty and sophisticated exterior. Like the rest of the 2022 Kia lineup, the Sorento gets updated badging, and the X-Line Package is now available on all-wheel-drive versions of the Sorento S and the EX. The top-tier SX Prestige trim receives some updates as well, the standard 14-way memory seats come equipped with a new thigh extender, and heated rear captain's chairs are added. A larger 10.3-inch touchscreen is now standard equipment on all trims except for the base LX trim. The Sorento is offered in three variants: gasoline, hybrid, and plug-in hybrid.
Buying a New Kia Vehicle
Whether it's driving to a music festival in a Kia Soul, enjoying a road trip in Kia Telluride, or taking the kids to the park in a Kia Sorento, these models offer unique experiences that make driving more exciting and memorable. Call us or visit us at Southern Kia Greenbrier and let us assist you in getting behind the wheel of a brand new Kia! We work with every budget to best accommodate payment options that make the most sense with your financial goals. For any questions you have or looking for a specific vehicle, submit our contact form and receive a response within the same day from our friendly staff. Be sure also to check out our certified pre-owned Kia inventory for unbeatable local prices! 
Image Source(s): Kia