The Kia Carnival Family Van Gets More Luxurious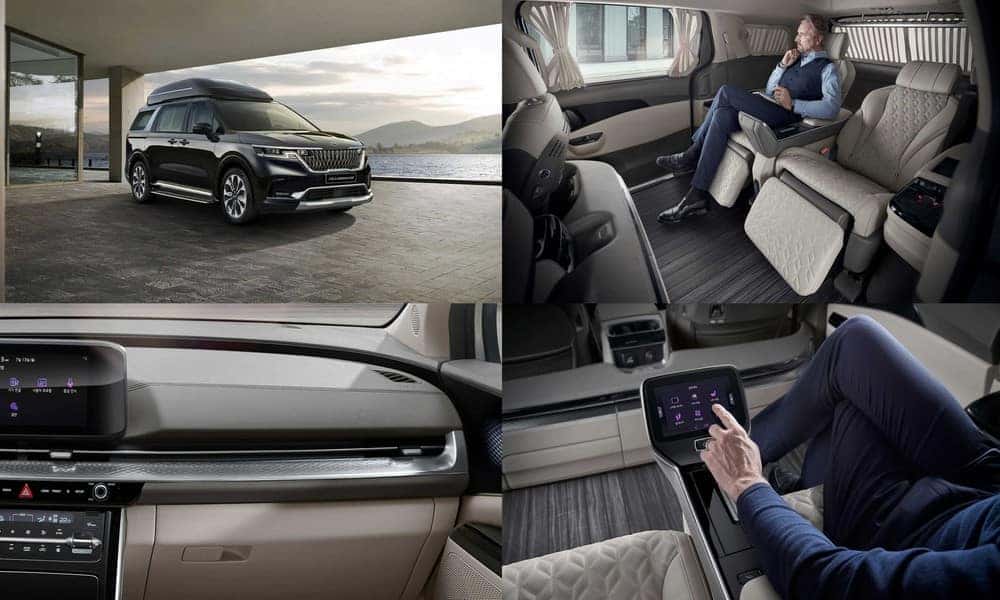 In the pursuit of the ultimate luxury experience, Kia takes the Carnival Van to the next level with the Hi-Limousine trim that it is selling in the Korean and Asian markets. The U.S. market receives only the standard Carnival Van model. However, the Hi-Limousine trim is a vehicle worth talking about. It is comparable to the American Cadillac Escalade in terms of size and luxury. It has several key features such as a lower floor for effortless entry and exit, a higher roof, and extra more to recline the seats, making the Hi-Limousine trim highly desirable for its interior.     
A Hyper-Luxury Family Van
The U.S. version of the Kia Carnival seats seven to eight people comfortably, while the top trim of the Hi-Limousine offers seating for four passengers only. Still, the ride quality is comparable to the first-class seats in an airliner. The Hi-Limousine has quilted Nappa leather seats, a 21.5-inch TV on the ceiling, LED ambient lighting, privacy curtains, an air purifier, an elongated LED lamp on the ceiling, a built-in foot-massager device, including cupholders with heating and cooling functionality. For consumers in the market for a van, the Hi-Limousine is the ideal choice for families that desire to travel in luxury and comfort.
Performance and Powertrain
Under the Kia Carnival Hi-Limousine hood are two engine options that include a 3.5 L V6 engine that delivers 290hp and 262 lb-ft of torque and a 2.2 L Diesel that puts out 199hp and 325 lb-ft of torque. It also comes with 19-inch wheels and a high-quality premium suspension for soft and smooth ride quality, making the Hi-Limousine perfect for long-distance travel. 
Vehicle Pricing
Having all those luxurious features comes with a hefty price tag. The nine-seat version starts at about $53,000 (or 60.66 million won), the seven-seater goes for $56,000 (or 63.88 million won), and the top-tier four-seater has a base price of $77,000 (or 88.26 million won). The US-spec Carnival starts from as low as $32,100 (plus destination fee) for the base LX trim and as high as $46,100 (plus destination fee) for the SX Prestige trim.
Do you want to get behind the wheel of a brand new family van? You can get started today and use Kia's build and price tool and send your ideal configuration to us at Southern Kia Greenbrier for processing and delivery. We make your buying experience easy and hassle-free so you can enjoy the benefits of our flexible leasing and financing options. Are you looking for another vehicle? Check out our on-site inventory of new or certified pre-owned Kias, and if you have a specific vehicle in mind you like, fill out our contact form, and our friendly staff will get in touch with you to get started. 
Image Source: Kia